Vin65 and VinTank Partner to Show Real Time Social Media 'GEO'-Notifications on Your POS.
See what your customers are saying through social media, and respond while they're at your winery.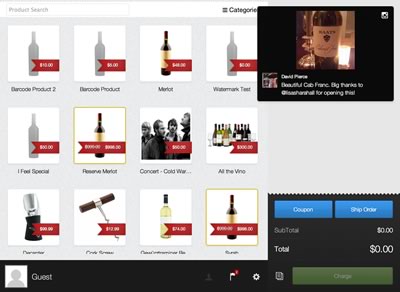 Customers love to share their tasting room experiences via social media. Imagine being notified in real-time when a visitor tweets or posts an Instagram photo.
Now imagine your staff responding to those posts in person, while the customer is visiting.
VinTank, the wine industry's leading social media monitoring platform is working with Vin65's mobile POS to provide wineries the ability to see and take action on social media posts using their geolocation tools.
What is 'geo-fencing'? Geo-fencing, simply put, is the ability to set a predefined area or radius (like your winery's property or surrounding neighborhood) and receive notifications based on the activity of people talking about your winery within that area.
Features & Benefits:
Social Monitoring. Your staff can have a direct impact on the experience both in-person and through social media and can monitor customer posts.
Deliver A 'Wow' Experience. Get better insight into your customers' experiences from their posts and provide an extra level of personal treatment.
Integrate Social. Enjoy a true 360 degree view of your customers, their social media activity, interactions, purchase history, and lifetime value, from your mobile POS system.
Put Out Fires. Your staff receive real-time notifications, good or bad, and can respond to any negative experiences in person.
Brent Johnson, General Manager of Vin65, had this to say:
"Geo-fencing allows wineries to truly make social media a personal experience in the tasting room. VinTank is a leader in the wine/social space and only with their expertise can we use geofencing in conjunction with our POS to bring social notifications into the hands of winery's tasting room staff. We're excited to be the first in the industry to innovate in this space."
Social media geo-fencing is available to all Vin65 clients using the POS system and is added at no additional cost.
To learn more about geo-fencing or the POS from Vin65, contact sales@vin65.com or visit www.vin65.com/Platform/Social-Meets-Commerce/Geofencing.
About Vin65:
Vin65 is the leading provider of website and ecommerce solutions and mobile point of sale systems to wineries and wine retailers interested in selling their wine direct-to-consumer. The Vin65 platform has received attention from wine technology thought leaders and technology savvy wineries for its ability to drive innovation in the wine ecommerce space. The platform includes: ecommerce, wine club, content management, customer relationship management, mobile ecommerce, and mobile point of sale systems all tailored for the wine industry.
For more information, call 1-866-852-8140 or visit www.vin65.com.
Blog: www.vin65.com/blog
Website: www.vin65.com
Facebook: https://www.facebook.com/Vin65
Twitter: http://twitter.com/vin65team
About VinTank:
VinTank is the world's largest software solution for social media management for the wine and restaurant industry. Measuring over 350 million conversations about wine, profiling over 14 million social wine consumers and serving over 4500 wine brands, VinTank helps wineries and restaurants connect and understand their customers in ways never before imagined. VinTank – Powering Social Intelligence for your Business.
For more information visit www.vintank.com

Website – www.vintank.com
Blog - www.vintank.com/blog
Facebook - www.facebook.com/VinTank
Twitter – www.twitter.com/vintank

###
Brent Johnson, General Manager
Office: 604-852-8140
Cell: 778-240-4155
Email: brent@vin65.com