March 22, 2010
Napa Valley POS and Vin65 Launch CustomerCentral
Centralized Customer Database Between Multiple Tasting Rooms and Websites
March 22, 2010 – Napa, CA and Abbotsford, BC--Napa Valley POS, creator of winery software and POS systems for specialty retailers and restaurants, and Vin65, a leading provider of wine e-commerce solutions, have released CustomerCentral, a centralized database accessible by multiple tasting rooms and websites simultaneously.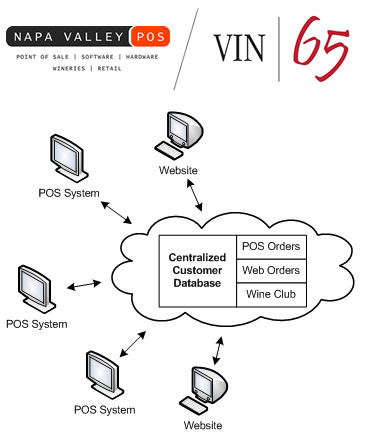 With CustomerCentral and its ability to provide a better overview of customer preferences via real-time updates, wineries can develop direct-to-consumer marketing tactics to more effectively maximize sales opportunities, enhance relationships and deliver personalized experiences to wine consumers. Wineries struggle to market effectively to customers when data is spread through multiple systems. Even with current integrations on the market where data is push/pull, time delays and multiple locations still can cause problems with customer synchronization. Napa Valley POS and Vin65 have developed CustomerCentral to help wineries get a full view of each customer's buying patterns quickly by allowing their point-of-sale and website to "talk."
"A half-dozen wineries have had the opportunity to preview the product, and each has been most impressed with CustomerCentral's features," said Andrew Kamphuis, President of Vin65. "We're really looking forward to rolling this out."
CustomerCentral's unique features and benefits for wineries:
Centralized real-time customer look up. This is not a push/pull system but rather a single database between multiple POS systems and websites (with fallback if an internet connection is down).
Quickly and securely query customers and lookup customer information including POS orders, web orders, wine club, shipping addresses.
Customers can view their history of purchases made from a winery's tasting room and from the winery's e-commerce store on the web. (This includes tracking numbers and enables customers to track orders)
Integrated with Vin65's CRM tools allowing wineries to more effectively market via personalized recommendations and incentives based on past purchases regardless of where the transactions took place.
With website and club orders available in the POS, a winery can look up pickup orders and process those through the POS.
~~
Napa Valley POS specializes in winery software, POS systems for specialty retail and POS systems for Restaurants. It is a partner of Microsoft and offers the Microsoft Dynamics® Retail Management System (RMS) Point of Sale software. RMS has been installed in over 100K locations and provides the perfect base solution for customers. Napa Valley POS has created additional modules that extend the functionality of RMS to handle tasks such as complex discounting, wine shipping compliance and destination sales tax.

###

Martin Olsen, President & CEO
Office: 707-320-2478
martin@napavalleypos.com
Located in British Columbia, Canada, Vin65's parent company K1 Technology Corp. was founded in November 1999 as a supplier of content management and e-commerce systems for small businesses. It now specializes in providing wineries with solutions for managing their websites including website design, e-commerce, content management and customer relationship management. For more information, call 604-852-8140 or visit www.vin65.com.

###

Andrew Kamphuis, President
Office: 604-852-8140, Cell: 604-613-5343
Email: andrew@vin65.com

Melissa Dobson, Interview requests
Office: 607-377-5318, Cell: 917-816-5424
Email: melissa.dobson@avantguild.com