Vin65 Launches Free Websites For Wineries
Wineries worldwide can now create free websites on the premier wine industry platform.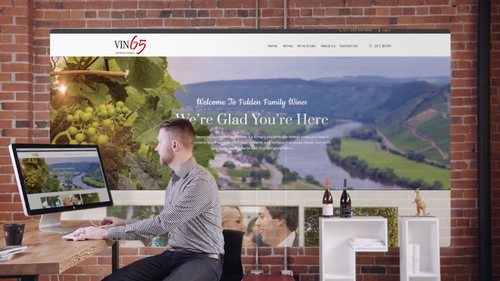 Vancouver, BC - July 20, 2016 - Vin65, the leading innovator in direct-to-consumer software for the wine industry, now offers free websites to wineries all over the world.
The first offering of its kind, Vin65's free sites include website pages, blog functionality, event calendars, recipe and wine product tools, as well as customer relationship management (CRM) features. They also include website hosting, live support and an expanding library of responsive, visually appealing templates - all completely free. When wineries are ready, Vin65's powerful ecommerce and POS tools can easily be layered on at the click of a button.
Vin65's free sites close the gap between generic, low-cost website services and more robust wine ecommerce tools. They are designed to appeal to wineries who are just getting started and want to start building their brand, but aren't yet ready to sell wine online.
"Our new free sites are a game changer for the wine industry," said Brent Johnson, Vin65's VP of Ecommerce. "As of today, any winery anywhere in the world - on any budget - can launch a beautiful, fully responsive website at zero cost within a few hours. "
Previously, wineries might have signed up for a website on a platform like Squarespace or Wordpress, and then migrated over to Vin65 when they were ready to add commerce tools. Now, they can eliminate what is often a time-consuming interim step and work with the industry's leading platform from day one.
"At Vin65, our goal is to help wineries sell more wine direct to consumer and we believe strongly in the power of ecommerce to achieve that," added Johnson. "There are thousands of wineries around the world who don't have any online presence, so offering free sites is a way for us to double down on our commitment and enable wineries to take that crucial first step of creating a website."
Free content sites are available immediately to wineries all over the world. Learn more and sign up at www.vin65.com/Free-Sites
About Vin65:
Vin65 is the leading provider of ecommerce and POS solutions to the wine industry, powering more than 1,400 wineries and wine retailers across the US, Canada, New Zealand and Australia. The Vin65 platform has received attention from wine technology thought leaders and technology-savvy wineries for its ability to drive innovation in the wine direct-to-consumer space. The platform includes: ecommerce, point of sale, wine club management, content management, customer relationship management and shipping programs all tailored for the wine industry. Vin65 is a wholly-owned subsidiary of WineDirect, with offices in Vancouver, Napa Valley, and Adelaide.
For more information, call 1-866-852-8140 or visit www.vin65.com
Blog: www.vin65.com/blog
Documentation: documentation.vin65.com
Facebook: https://www.facebook.com/Vin65
Twitter: http://twitter.com/vin65team
###
Adrienne Stillman, Marketing Manager
Office: +1-707-603-4026
Email: adrienne@vin65.com