January 10, 2013
Vin65 Introduces iPad Point-of-Sale System for Wineries
Now your Point-of-Sale System is anywhere you can carry an iPad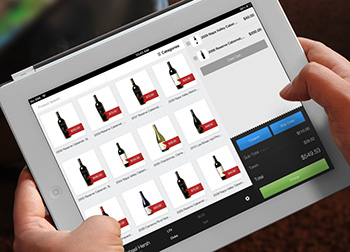 Vin65, the leading provider of wine ecommerce, announces the launch of their iPad Point-of-Sale System for wineries. This tool allows winery employees to access the customer, product and sales database on the spot for instant sales, wine club sign-ups and shipping order management without being tied to a cash register counter.
According to "The Mobile POS Effect" research report, 21.4% of retailers say their long-term plan is to remove five or more fixed POS stations per store, a dramatic finding that indicates retail is on the verge a paradigm shift. While not intending to replace a winery's POS system, the Vin65's iPad Point-of-Sale System will allow a winery to bring their customer database, product database, and sales history into the crowd of the tasting room, at events, and on the road, and connect directly to the Vin65 website's payment gateway.
Features and benefits:
Increase customer sales. Never have to say to a line "I'll be with you in a minute" when you can move into the crowd to sell wines, merchandise, tasting fees and wine clubs anywhere.
Enhance customer service. Sell and redeem gift cards, email receipts, offer coupons, manage shipping orders and pickups, and add new credit cards to a customer record in an instant.
Increase data acquisition accuracy. Having access to the database reduces need for consuming and error-prone paper data entry. With the Vin65 iPad POS System employees can add a new customer, or select an existing one, choose from saved shipping addresses, see lifetime value and club membership to apply the correct pricing.
Easier Reporting and Security. Manage inventory and multiple locations, inventory reports, sales and customer reports in PDF and Excel.
Manage everything in one place. One product database, one order database and one customer database between a Vin65 website, Facebook page, Vin65 mobile site and iPad tasting room app.
The Vin65 iPad POS system is immediately available for all existing Vin65 customers and will be made available shortly to all wineries. It includes swipers for credit cards and licenses, and has two flexible payment plans. Wines and other content are managed inside the Vin65 platform. Transactions are secured by SSL and all processing flows through the winery's existing merchant account and directly to the winery.
Andrew Kamphuis, president of Vin65, had this to say:
"We are very excited about the iPad POS. The ability to take a POS system to a customer rather than forcing a customer to come to the counter creates a great customer experience. It is perfect for events, picnic areas, and small-to-medium traffic tasting rooms. Combine the portability with the ability to capture customer data within the Vin65 CRM and the iPad POS is a tool that can really enhance your relationships with customers."
Vin65's iPad POS System is available today for Vin65 clients as well as WineDirect clients who are on the Vin65 platform.
Blog: www.vin65.com/blog
Website: www.vin65.com
RSS feed: http://feeds.feedburner.com/Vin65
Facebook: https://www.facebook.com/Vin65
Twitter: http://twitter.com/vin65team
About Vin65:
Vin65 is the leading provider of website and ecommerce solutions to wineries and wine retailers interested in selling their wine direct-to-consumer. The Vin65 platform has received attention from wine technology thought leaders and technology savvy wineries for its ability to drive innovation in the wine ecommerce space. The platform includes: ecommerce, wine club, content management, customer relationship management and mobile ecommerce all tailored for the wine industry. For more information, call 604-852-8140 or visit www.vin65.com.
###
Andrew Kamphuis, President
Office: 604-852-8140, Cell: 604-613-5343
Email: andrew@vin65.com