Vin65 Introduces Texting/SMS Capabilities
Wineries can now use text messages (both inbound and outbound) as a marketing tool to connect with customers.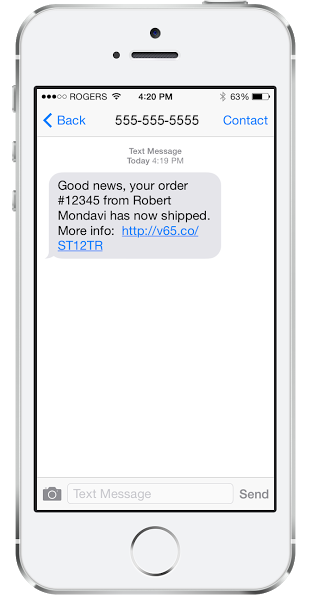 Vancouver, BC - December 9, 2014 - Vin65, the leading innovator in direct to consumer software for wineries, now offers Texting/SMS capabilities through their platform, allowing wineries to connect with customers.
Everyday, consumers send billions of text messages. The immediacy and simplicity of a text message makes using the medium preferable to sending an email.
People look at text messages on their phones before they respond to email. Traditionally, texts are a more personal form of communication, unlike emails, which are easy to overlook. For package delivery, and important notices about wine shipments - texting is the best option out there.
Wineries can sell more wine utilizing three new features:
Package Delivery and Tracking SMS
Wine delivery is complicated – and when a customer isn't home it can become a major inconvenience for the customer and the winery. Vin65 will now text a customer when their package is shipped as well as send them a text the day before it's to be delivered. Couple this text message with a link to the winery's website where a customer can view all of their package delivery details. Further to this, WineDirect Fulfillment customers have the option to reset the delivery date or delivery location by simply clicking a link.
Customers are notified via text when there is a delivery exception - allowing a customer to immediately respond to the delivery issue without delay.
Good news! Your wine is scheduled to be delivered tomorrow between 9:00am and 12:00 noon, click here to re-route or re-schedule.
Marketing Text Messages
Use Vin65's List Builder and easily send mass marketing text messages to an opt-in list. Customers can easily opt-in or opt-out of receiving text messages.
Come to our outdoor concert this Saturday! Buy tickets here.
Inbound Texting/SMS
Wineries can receive text messages from customers and systematically respond to them. For example, wineries can set up an offer and have consumers text the word 'Pinot' to a specific number. In turn, a winery can respond with an email, text message, or opt the person into a future communication.
Text Pinot to 54321 and receive shipping included on all Pinot orders.
--
Like all the Vin65 communication tools - all text messages are available when looking at individual client records.
"Sending text messages to customers breaks down the barrier that email has - and gives your winery a more personal interaction," said Brent Johnson, General Manager of Vin65. "Text messages through Vin65 will reduce package delivery frustration, open up communication for events or promotions and allow you to connect with each of your customers directly to their phones. We're really excited about this new feature in the wine industry."
Learn more about Texting/SMS, pricing, or come to our webinar to learn more.
About Vin65:
Vin65 is the leading provider of ecommerce and POS solutions to wineries and wine retailers. The Vin65 platform has received attention from wine technology thought leaders and technology savvy wineries for its ability to drive innovation in the wine direct to consumer space. The platform includes: ecommerce, point of sale, wine club management, content management, customer relationship management, compliance and shipping programs all tailored for the wine industry.
For more information, call 1-866-852-8140 or visit www.vin65.com.
Blog: www.vin65.com/blog
Website: www.vin65.com
Documentation: documentation.vin65.com
Facebook: https://www.facebook.com/Vin65
Twitter: http://twitter.com/vin65team
###
Corinna Johnson, Marketing Manager
Office: 866-852-8140
Email: corinna@vin65.com