Vin65 Introduces Real-Time Package Tracking Capabilities
Wineries are now able to drive traffic to their website while keeping customers informed about their wine shipments every step of the way.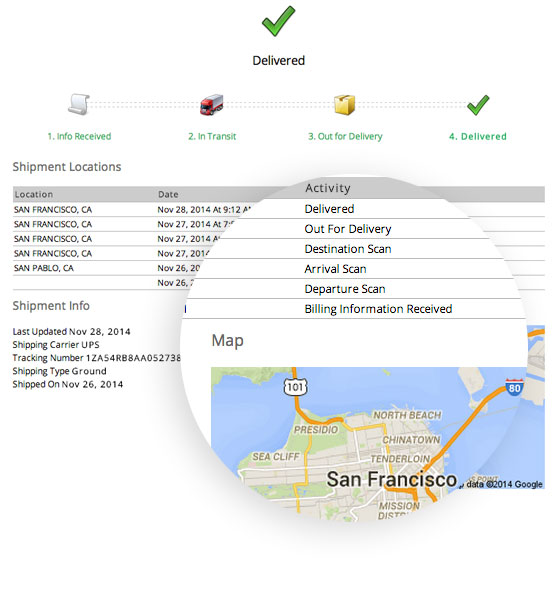 Vancouver, BC - December 9, 2014 - Vin65, the leading innovator in direct to consumer software for wineries, now offers package tracking capabilities for real-time delivery information.
Pull Customers to Your Website
The average person tracks their order 6-8 times when a package travels from the West Coast to the East Coast. Rather than visiting UPS or FedEx, customers can track where their wine is in real-time right on the winery website they purchased from. That's 6-8 more opportunities for wineries to target customers with specific marketing messages.
Real-Time Notifications
Wine requires a signature - so it's important for customers to monitor when their package is going to be delivered. Managers can access real-time updates and advise customers right from the admin panel. Wineries using WineDirect for fulfillment services can even offer reroute or delay package options for customers.
Send Updates to Customers
Wineries are now able to tell customers when their wine has been shipped, the route it took, what stops are slowing it down and the expected delivery date. Wineries can even send a text when the package has been delivered and keep track of their customers after sales habits to be able to effectively market to them in the future.
--
"Wine delivery is complicated. We were finding wineries were giving up so much of their after sales service by handing over packages to a third party shipper," said Vin65's General Manager, Brent Johnson. "Now, wineries can inform customers where their package is every step of the way, even pulling them back to their website to check the status. This is the next step in breaking down the barrier of shipping wine DTC."
Package tracking is available immediately in the US, Canada and Australia from USPS, UPS, FedEx, DHL, Canada Post, Australia Post and Fastway. Learn more about package tracking, pricing, or come to our webinar to learn more.
About Vin65:
Vin65 is the leading provider of ecommerce and POS solutions to wineries and wine retailers. The Vin65 platform has received attention from wine technology thought leaders and technology savvy wineries for its ability to drive innovation in the wine direct to consumer space. The platform includes: ecommerce, point of sale, wine club management, content management, customer relationship management, compliance and shipping programs all tailored for the wine industry.
For more information, call 1-866-852-8140 or visit www.vin65.com.
Blog: www.vin65.com/blog
Website: www.vin65.com
Documentation: documentation.vin65.com
Facebook: https://www.facebook.com/Vin65
Twitter: http://twitter.com/vin65team
###
Corinna Johnson, Marketing Manager
Office: 866-852-8140
Email: corinna@vin65.com