Vin65 Introduces "Carrot Engine" Incentive Technology
Wineries can sell more wine by upselling, cross-selling, and personalizing messages to their customers online and in their tasting rooms.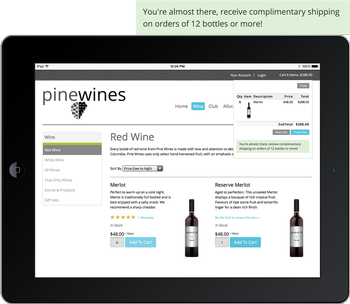 Vin65, the leading innovator in direct to consumer software for wineries, now offers a "carrot engine" to message and incentivize winery customers in the tasting room and online.
What's a carrot? It's an incentive message. A user is prompted with a reminder that is activated during the purchase process. The message can be anything from giving birthday greetings to club member discounts to an offer of reduced shipping in exchange for adding a few more bottles to the order.
Carrots can be based on customer profile information such as lifetime value, last visit, number of visits, previous purchases, their club memberships and numerous other parameters. Carrots can also be triggered by items in the current order, order size, or products not being purchased. Carrots can show different messages based on the order channel and use different priority levels and colors. Furthermore, a 'quick configure' tool will guide the winery through the process of setting up the most effective carrots with a number of preset messages and criteria to choose from.
Carrots provide wineries with several important advantages:
Sell more in the tasting room. Tasting room staff will see carrots on the Vin65 POS, assisting them in upselling and cross-selling to customers - leading to more effective conversions. Tasting room staff will be able to suggest other wines, communicate savings based on purchases and distinguish the importance with priority color from carrot engine prompts
Sell more online. Incentivize customers to buy more as they add products to their shopping cart. Increase a customers order size with targeted messages unique to them. Online customers will benefit from customized marketing based on current and past purchases and enjoy a personalized experience not yet seen in the wine industry.
"After secret shopping a few wineries, our team watched both long term and temporary tasting room staff help dozens of customers and offer them their current wines. They treated each customer well, exactly how you'd like a customer to feel, but the message was generic", said Brent Johnson, General Manager at Vin65. "We built the carrot engine as a tool to help the tasting room staff deliver a more personal message based on each individual's information."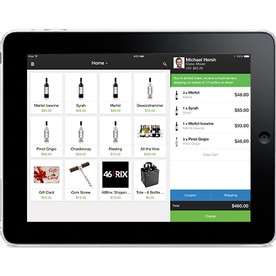 About Vin65:
Vin65 is the leading provider of ecommerce and POS solutions to wineries and wine retailers. The Vin65 platform has received attention from wine technology thought leaders and technology savvy wineries for its ability to drive innovation in the wine direct to consumer space. The platform includes: ecommerce, POS systems, wine club, content management, customer relationship management and mobile ecommerce all tailored for the wine industry.
For more information, call 1-866-852-8140 or visit www.vin65.com.
Blog: www.vin65.com/blog
Website: www.vin65.com
Documentation: documentation.vin65.com
Facebook: https://www.facebook.com/Vin65
Twitter: http://twitter.com/vin65team
###
Corinna Johnson, Marketing Manager
Office: 604-852-8140
Email: corinna@vin65.com