Texting/SMS Capabilities to Sell More Wine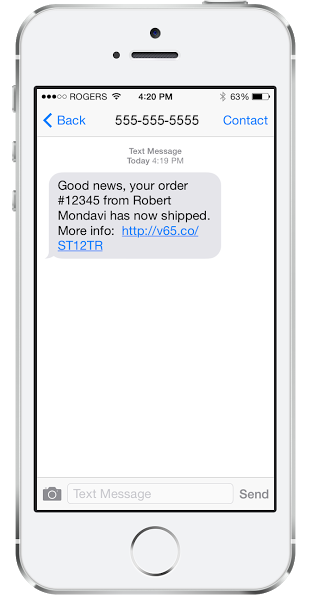 Package Delivery and Tracking SMS
Wine delivery is complicated – and when a customer isn't home it can become a major inconvenience. Vin65 will now text a customer when their package is shipped as well as send them a text the day before it's to be delivered. Couple this text message with a link to the winery's website where a customer can view all of their package delivery details. Further to this, WineDirect Fulfillment customers have the option to reset the delivery date or delivery location by simply clicking a link. Customers are notified via text when there is a delivery exception - allowing a customer to immediately respond to the delivery issue without delay.
Good news! Your wine is scheduled to be delivered tomorrow between 9:00am and 12:00 noon, click here to re-route or re-schedule.
Mass Texting/SMS
Use Vin65's List Builder and easily send mass text messages to an opt-in list. Customers can easily opt-in or opt-out of receiving text messages.
Come to our outdoor concert this Saturday! Buy tickets here.
Inbound Texting/SMS
Wineries can receive text messages from customers and systematically respond to them. For example, wineries can set up an offer and have consumers text the word 'Pinot' to a specific number. In turn, a winery can respond with an email, text message, or opt the person into a future communication.
Text Pinot to 54321 and receive shipping included on all Pinot orders.